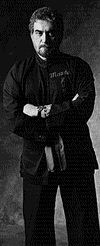 Master Guy Savelli
Photo by Herb Ascherman

YouTube Update: Mental Exercises with Results 8/20/2014

Pictures from the Savelli Huc Chung Kun Tao Seminar - Clearwater, FL
Current Topics:
Visit the Huc Chung Kun Tao YouTube channel 12/16/2009

The Perfect Kun Tao Hit 1/23/2009

What It Takes To Train 8/03/2008

Healing Visualization Techniques 7/20/2008

Video Update - Earth, Wind, Fire And Water 11/5/2006

Video Update - Mind Training 7/17/2006


Video Update - Reeders Kun Tao 4/30/2006


Video Update - A Student's Experience 3/23/2006


Video Update - Foot Patterns & Reflex 3/9/2006


Video Update - Huc Chung Kun Tao Breathing and Visualization 3/2/2006





Kun Tao - The Fruit 1/31/2006





Kun Tao Confusion Training 11/13/2005





Enigma Reflex 8/29/2005





Fighting with Spiritual Chi 8/10/2005





Kun Tao (Clear Mind) 6/23/2005





Formal Reeders Kun Tao System Series is Now Available! 4/12/2005





Recent Special Operations Training 8/29/2004




Master Savelli's Complete Documentation 8/20/2003




Current Training of Special Operations Personnel 3/27/2002




Complete Huc Chung Kun Tao Demo 2/26/2001
(Healing Portions are Section 12 & Section 13)




Correspondence Course - Complete Itinerary 6/15/2000




Previous topics...




Master Savelli Demonstrates "The Whip"














Click here to visit the sites of some of our friends.

If you have an interest in Huc Chung Kun Tao and would like to automatically be notified when this page changes, please register on the WorldKungFu mailing list.

savelli@worldkungfu.com

---
Copyright © 1998, 1999, 2000, 2001, 2002, 2003, 2004, 2005, 2006, 2007, 2008 by Guy L. Savelli. ALL RIGHTS RESERVED.
Except as otherwise provided by law, this writing may not be produced in whole or in part, in any manner.